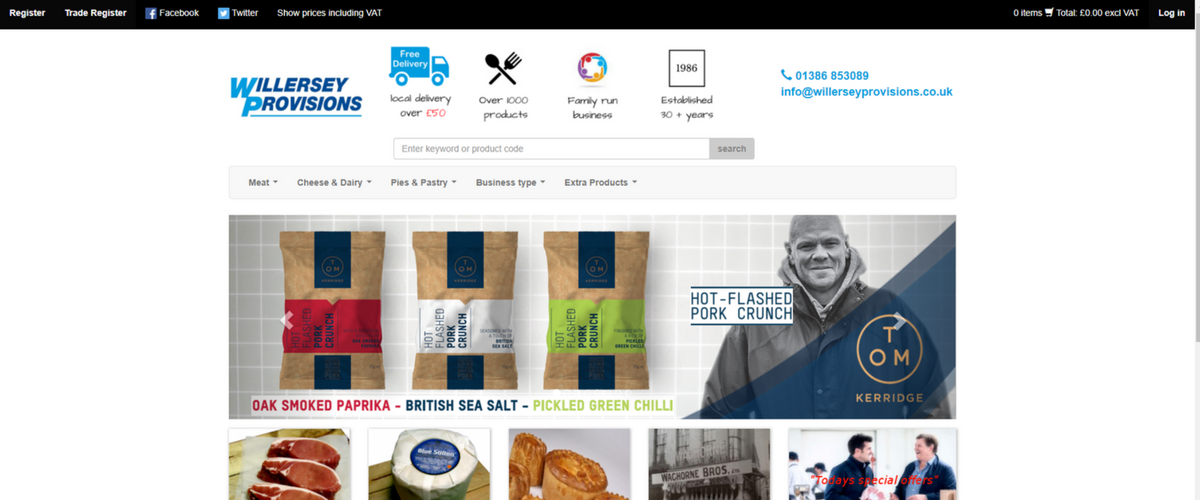 Sharp-aX is delighted to announce that the Willersey Provisions website has gone live: https://willerseyprovisions.co.uk
Willersey Provisions is a family owned and run business, established in 1986
The company has grown from a small start-up, concentrating on the production of sliced bacon, into a mature company with wide product choice and knowledgeable staff.
Their ever-expanding product range now includes a large range of pies, cooked meats, sausages and cheese.
Some of the products that Willersey Provisions sell on their website are weighted items.
The ordering system is different for weight items because they only know the exact price for weighted items when the products are actually delivered to them by their suppliers.
The ordering process works for weighted items as follows:
1. Customers place orders without paying in the first instance.
2. Willersey Provisions receive the items from their suppliers.
3. Willersey Provisions weigh the items and enter the exact weight in Sharp-aX while creating a delivery note.
4. Once the weight is updated in Sharp-aX, the order price gets updated automatically on the website
and an email is sent to the customer to pay the updated order total amount.
5. The customer follows the link in the email to pay for the order.
6. Once payment has been received – Willersey Provisions delivers the goods.
Willersey Provisions Limited is based in Willersey, Worcestershire and chose to  install the Sharp-aX software with its integrated website to enable them to dramatically increase their already healthy turnover with the very lucrative on line sales:  read their story here.
---
Posted: 22nd November 2017
Posted in: Customers, Food and drink