A major advantage of leasing capital equipment is that it allows companies to source and pay for their software and hardware equipment items over a period of 3 to 5 years at a fixed rate.
Cash purchasing is a viable option for companies who have the financial reserves and are happy to use their cash in a one off payment.
Example 1. Sharp-aX Purchase Agreement for Capital Equipment valued at £25,000: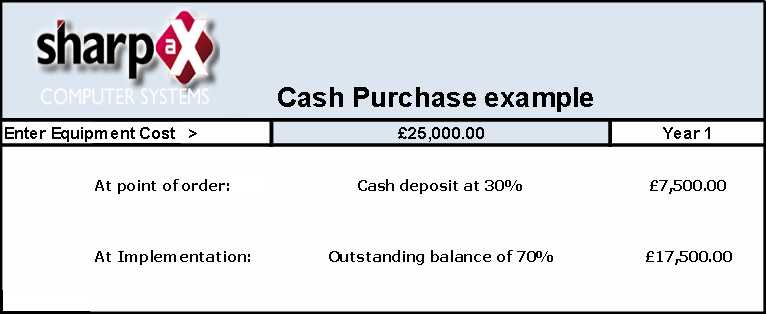 Example 2. Sharp-aX Lease Agreement for Capital Equipment valued at £25,000: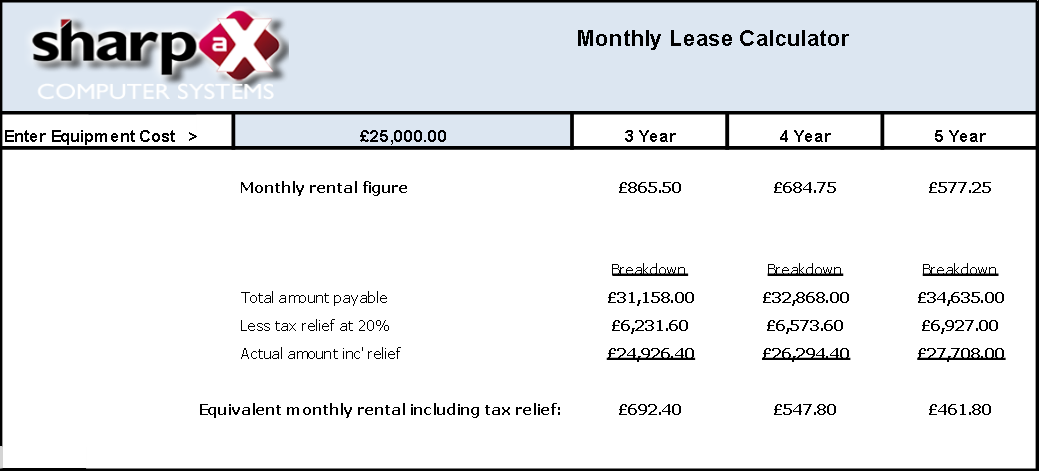 This system is more convenient for smaller companies and newer companies to secure the best and most suitable software and hardware for their needs.
Upgrades, maintenance and repairs may be managed inside the lease agreement itself with an option to purchase the equipment after expiry of the lease.
Customer Benefits of Leasing
* No Capital Expenditure and the customer recovers their initial sales deposit
* Releases capital to be used more profitably in other areas of the business such as stock & premises
* Fixed term contract – allowing for effective budgeting
* Fixed payment terms – a 'hedged bet' against inflation
* Preserve other credit facilities
* Equipment consumed may be upgraded at any time, including mid-term of the lease
* Rentals are 100% offset against taxable profit
* Provides the equipment that you need today
Supplier Benefits of Leasing
* Higher value or function equipment can be proposed for relatively small monthly cost increases
* Rapid turnaround of applications: potentially within 4 hours
* Simple upgrades can be included in the lease
Contact us now – we can help you!
At Sharp-aX we listen carefully to the customer and their unique requirements and we have access to the best financial services available.
If you would like to discuss the issues raised within this blog, by all means get in touch here.
---
Posted: 18th October 2017
Posted in: Sharp-aX