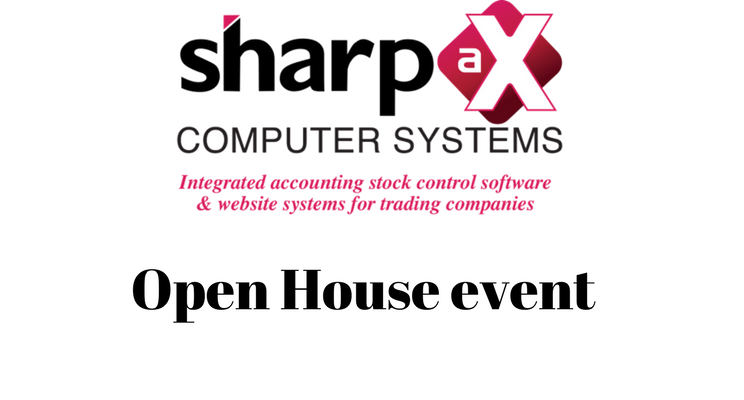 Sharp-aX Computer Systems is holding an Open House event on Wednesday 27th September 2017 – 10am until 4pm.
An overview of the Sharp-aX software
See how the Sharp-aX software can help save time, speed up sales entry, margin watch, haggle and search customer history to give instant access to who is buying what or not.
Instant fingertip information for the Boss:
Sales for today, this month, year to date + comparisons to last year
Top selling products and margins + comparisons to last year
Integrated Website
Orders transferred into the Sharp-aX system from the website automatically.
Seamless data access from your Sharp-aX system, simply tick products that you wish to appear on your website.
Prices are automatically updated.
See everything you need in one system – continuous demonstrations throughout the day.
Existing Sharp-aX customers are very welcome
Hear about new Sharp-aX software modules & features, tech tips and shortcuts.
Meet the Support, Consultancy & Development Teams – How Can we Help?
Our Partners will be joining us:
Sales-I for business sales & customer intelligence
Intelligent Performance for System Security & Hosting
Blue Star for Point of Sales Hardware & Solutions
PAGO credit card facility
Toolbank Import Genius
IDNet for Broadband solutions
Blueraq for Back Up data security
Managing Director Jean Freeman commented: "At Sharp-aX, we love talking to and meeting customers. The Open House event is a great opportunity to share the latest innovations within the Sharp-aX software and meet old friends and make new ones."
The event will be held at Sharp-aX Computer Systems Limited, R&R House, Northbridge Road, Berkhamsted HP4 1EH. Tel: 01442 550 950.
Attendees can register here: www.sharp-ax.com/register_event
---
Posted: 18th August 2017
Posted in: Sharp-aX