Alan Jones bought the entire building in Sydenham Road, Croydon in 1962 and subsequently transferred it to his son Graham who left in the short term so that Alan continued until 1993 when he retired.
Derek Miller took over and worked with Stephen Potter who had joined in 1991.  They worked together until 2013 when Derek retired.
This was clearly a highly successful partnership as the business grew dramatically.  In 2007 it won the Croydon Enterprise for Business award (Croydon's population is in excess of 380,000 people).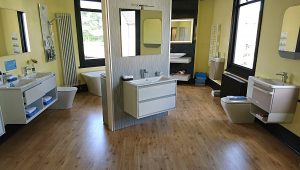 Stephen has since run Jones Plumbing Supplies with seven staff. Recognising the need for an easy to use, comprehensive modern computer system, he installed the Sharp-aX Microsoft SQL system in 2013 from Sharp-aX Computer Systems in Berkhamsted, Hertfordshire.
Jones Plumbing Supplies had no previous computer experience but almost immediately, with the Sharp-aX's training, they saved much time on the trade counter and on pricing and stock management to help control their 46,000 stock items.
Additionally, Stephen has used the time saving benefits of Sharp-aX to be able to continue his invaluable work in the showroom to the benefit of the company.
He is now examining the highly successful Sharp-aX web integrated module in order to enable new and/or existing customers to use the web to place orders through the web directly into the computer system.
There is little doubt that with Stephen's vision and competence Jones Plumbing Supplies will continue to thrive in the future.
---
Posted: 3rd May 2017
Posted in: Bathrooms, Customers, Plumbers merchants