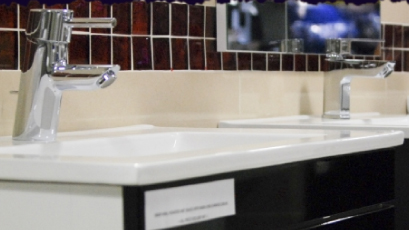 There are a large number of independent bathroom & kitchen merchants in this country and Sharp-aX Computer Systems is the perfect fit for all of them.
Bathroom & kitchen merchants need to optimise their stock, offer fast & efficient sales operations, competitive pricing, produce informative management information and first-rate customer service.
The Sharp-aX software is tried and tested and currently installed in sites throughout the country such as LP Supplies Limited in Wembley, Jones Plumbing Supplies Ltd in Croydon and FG Trew & Sons Ltd in Swansea.
We know about you!
We know about your complex pricing/discounting structure, different units of measure (sell by one or pack) KBB integration, kits, range selling, multi supplier history at sales entry time and the need for multi trading facilities such as account customers, cash sales and cash sales with trade discounts.
Not forgetting box quantities and split packs.
The main features
Customer Relationship Manager with Marketing Module & Task Manager, Pricing Service, Rebates, Telesales, fully integrated web sites, key performance indicators, workflow rules and multiple product images in full colour plus our new Van routing and Directs (drop shipping) modules.
Store all of the owners'/bosses' knowledge into the system to ensure top class service, haggling (with margin control) and selling the product you would rather sell over the one asked for. This gives the best of all worlds, better margins, improved reputation for customer service and the ability to move preferred stock.
One entry to see quotations and/or orders through to delivery note/invoice/sales ledger and nominal posting. Where orders are specials, recognition at goods received time. All of this saves time, copying mistakes and frees staff to work on more money making tasks.
Drill down for complete information at point of sale but only when you need to see it
Simple screens mean ease of use for all staff.
Customer level report writing plus interface to Excel.
Most of our customers start simply and use more and more facilities as their staff become familiar with the Sharp-aX software. As the business grows, using our reporting writing facility, you will easily recognise the strengths and weaknesses of your business for you to take prompt and effective action more quickly and effectively.
No waiting for your accountants to highlight sales below cost at the end of the year.
The Sharp-aX Company
We are geographically central and have over 138 customers in England and Wales.
We are an excellent size to work with – big enough to respond to you but still able to offer for you to speak to speak to our managing director if ever required.
Our philosophy is to have only one version of the software with 4 updates per annum included in the annual maintenance charge.
We have our own design and programming and support resources – the software is written and continually developed in Hertfordshire.
No huge customers – therefore all customers are equal.
No system archiving – you need the history to compare performance with the same.
products over previous months, seasons and years.
Product Design Philosophy
The Sharp-aX software runs on a Microsoft SQL based system, programmed in C# which uses .NET + Devexpress frameworks. It is easy to install and work with, flexible and with high speed, we save customers time and contribute to profits. Most importantly, our customers are set up for the next 20 years.
Fast, fully windows based with seamless integration to Word, imaging and attaching.
technical documents and drawings. Other windows applications can co-exist on the server.
We constantly enhance the software against our own development plan and equally important – for new and existing customers' requirements.
If you would like further information and/or a demonstration of this system, please contact Jean Freeman –  jfreeman@sharp-aX.com  or call on 01442 505950.