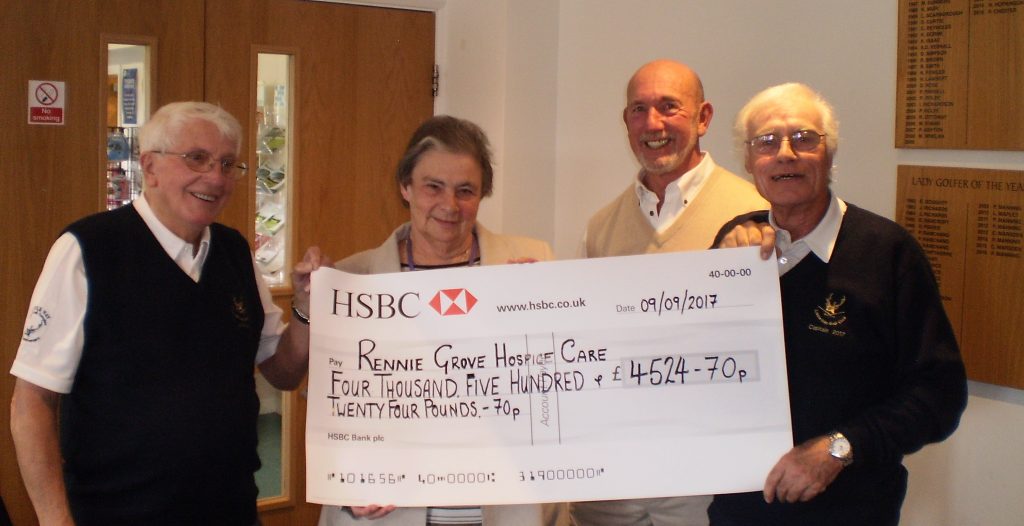 Ralph Lane (President) and Trevor Sargent (Club Captain) of Little Hay Golf Club wrote to sponsors to thank them for supporting The Little Hay 40th Anniversary Fund Raising Day:
"On behalf of Little Hay Golf Club and Rennie Grove Hospice Care, the Club Committee would like to thank you for your very generous donation, and support of the Club and Rennie Grove.
"The main aim of Rennie Grove Hospice Care is to provide help for families with terminally ill children and adults but, like all charities, they need mainly financial help to maintain the level of care they strive to achieve.
"Local shops, restaurants, businesses and golf clubs rallied round and made this day a resounding success through their gracious generosity and sponsorship.
"All the monies are now in and it's our pleasure and with great pride to announce that a cheque for £4,524.00 has been presented to Rennie Grove Hospice."
The Little Hay Golf Club is located in Bovingdon, Hertfordshire.
Sharp-aX works closely with the Hospice of St Francis in Berkhamsted.
See also: Sharp-aX sponsors Little Hay 40th anniversary Rennie Grove Hospice 
---
Posted: 13th September 2017
Posted in: Sharp-aX