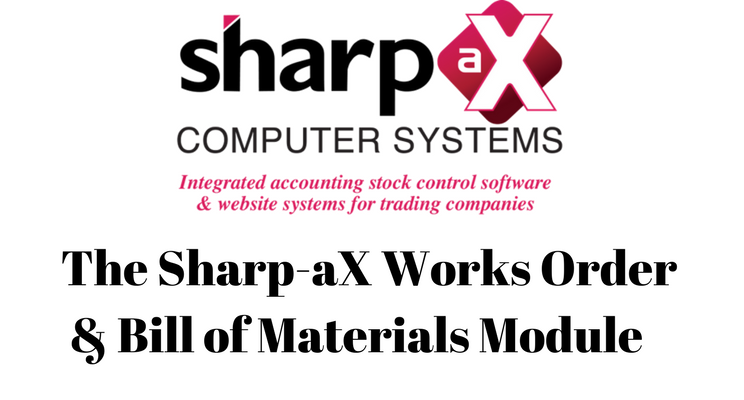 The Sharp-aX Works Order & Bill of Materials Module is designed to cater for businesses who manufacture, assemble or transform products on or off site.
From simple assemblies to a complex multi-level bill of materials
Sharp-aX Works Order and Bill of Material Module offers a tailored solution to streamline stock control and make working through processes simple and straight forward.
Easy Identification of Stock
The Module enables quick identification of the components in stock and how many bill of materials items could be built.
How many items are in build process? How many are completed? How many and which items are required to fulfil sales orders?
Pricing
The Module incorporates labour costs to the cost of the Bill of Materials items.
Stock Progress
Subassembly items and multi-stage works orders allow users to create the most complex multi-level bill of material items and record every step of the manufacturing process.
Manufacturing Instructions
Labour requirements are added to each works order stage.
Stock is only moved when it is required and the user will always know how far along the manufacturing process the bill of material item is without leaving their desk.
Sales Orders to Works Orders – One Click
Create works orders from sales orders with one click. Once manufactured the goods will be automatically allocated to the sales order ensuring swift and efficient fulfilment of customer orders.
Sharp-aX Managing Director Jean Freeman commented: "Our dedicated software development team based in Berkhamsted Hertfordshire work continually to add even greater functionality to our software."
---
Posted: 16th August 2017
Posted in: Sharp-aX