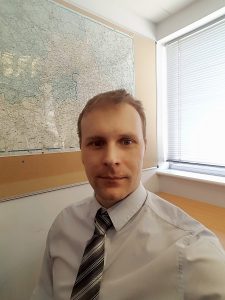 Charles Caswell has joined the Sharp-aX sales team to cover the North London area.  We are delighted to have secured the services of Charles – he is young, energetic and wildly enthusiastic about working for Sharp-aX.  After a thorough investigation, he considers Sharp-aX to be the leading software company with all of the best software features on the market at this time.
He says the deciding factor for him was that Sharp-aX has its own integrated website.
Charles commented: "Sharp-aX is the total package.  They have an experienced team of like-minded people who have good relationships with their customers.  They do everything possible to help them to make the best possible use of the powerful features of the system."
He has immediately found his way around the software himself and is already on the road and securing appointments.
Charles holds a degree in Computer Science from Ulster University.  He comes from a background of finance and ERP and brings an already established customer base and industry contacts.
---
Posted: 20th April 2017
Posted in: Sharp-aX